Art can help reveal a culture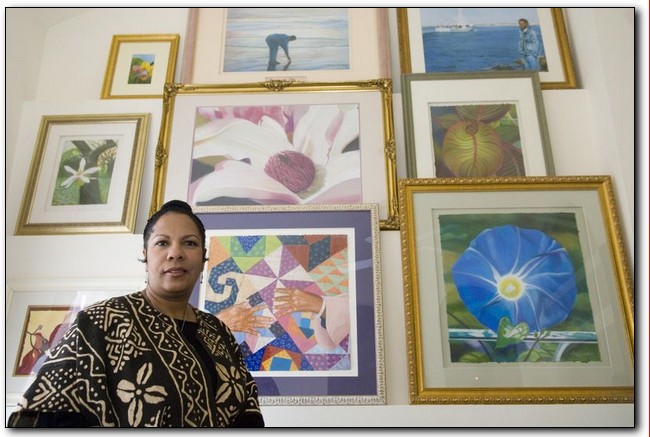 Dressler Smith with some of her recent work
Artist Dressler Smith stands in front of a wall of several pieces of her artwork at her Pennsauken home.
Photo © Courier-Post; Sunday, February 10, 2008
Sunday, February 10, 2008
By DRESSLER SMITH
For the Courier-Post
The role of art plays an important part in African American history. It can reveal the heart, spirit and culture of people. Art can present a mirror of everyday life from the viewpoint of the individual artist to others. The artist can also present, through their work, a particular iconography; a story of people, places or an event in time.
Art might also be important in the depiction of things that are unique to African American culture or that of some religious belief. Some themes in art are common to all people.
I have focused on the landscapes of places I have been for years however, some of my latest work is based on the artwork of mothers in the African-American community, who in the past did not have the ability to afford artist materials. African-American women whose ancestors were brought to this country beginning about 1619 exhibited such great strength just to have survived. I focused my attention on these women after the personal loss of my mother. Her garden plants and flowers live on as she does in my spirit.
Unconsciously, after the passing of my mother, the work began to reflect mothers whose art was expressed through their garden and quilts. I have always been infatuated with natural forms. Lately, I have been increasingly drawn to examine plant life. Within each flower or plant form, there is a parallel of life's unfolding time. I often use oil paint and pure pigment of soft pastel. It reminds me of the Old Masters, who mixed their own paint or pigments, adding to the richness of color.
The beauty of the plants and flowers are comparable with the aging, though timeless beauty of the hands of quilters. The close up view of plant forms are intended to draw attention to the sensitive protected centers of these plants, which parallels the nurturing of mothers toward their children. The general style of my work is realism used to journal the direction of my life's personal path.
I appreciate the ability to express the awesome qualities of nature through plants, quilts and landscapes while presenting the art of others whose lives parallel the timeless beauty found in plants.
It is my desire to honor these women through my art. I am blessed to be the hope and dream of some of these women.